CAMILA COOPER AMONG THE TWENTY FINALISTS FOR THE TOYP (TEN OUTSTANDING YOUNG PERSONS) AWARD
Committed to creating impact in their communities, JCI (Junior Chamber International) is a non-profit organization made up of active young citizens ages 18 and 40 . In charge of bringing together active citizens from all sectors of society, seeking to develop their skills, knowledge and the necessary understanding to make informed decisions and take action. Its main program is Ten Outstanding Young People – TOYP Colombia, which annually recognizes ten young people between the ages of 18 and 40 with the best attributes in ten specific categories. 
Among the finalists is Camila Cooper, globally recognized for her social impact, who for her academic training as a meritorious student and meritorious thesis such as Master in Family Counseling and Family Program Management in addition to her title as Social Communicator-Journalist in the Universidad de La Sabana and being trained in Social Impact by the IDB and + ACUMEN ; She is now the founder of the Fruto Bendito Foundation, a social enterprise that works to protect early childhood by educating and sowing love in both their families and caregivers.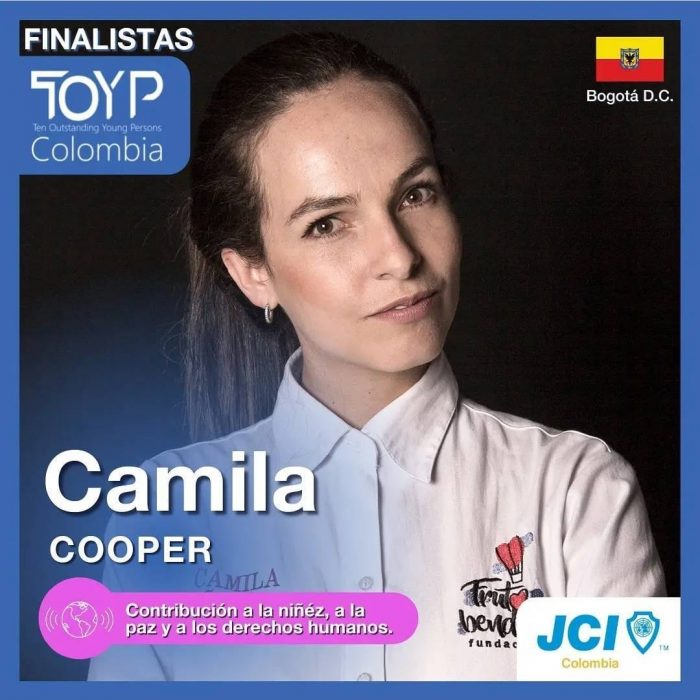 Foundation that was born from the love of a mother with an entrepreneurial mind in 2016. Together with various foundations and institutions such as Grupo Nutresa, the Colombian Institute of Family Welfare, the Bogotá Chamber of Commerce, Google , among others, they developed a Bendita methodology to accompany and educate moms through its first intervention program called 'Cunas Con Amor' that together with doctors and experts deliver corrugated cardboard cribs, printed with organic inks, with which they have supported 6,500 families and delivered 5,500 cribs within 20 cities and / or municipalities in Colombia. In the same way, motivating mothers and ecological families to be part of this initiative by buying a crib for $ 95,000 and sponsoring a family belonging to a vulnerable population.
"I found my life purpose with the arrival of my first son Gabriel, I am articulating the ecosystem to offer the possibility that I had, to be a woman, wife, mother, social entrepreneur, mentor and teacher, without giving up any role by my own decision. Happy families, raise happy families. And so we will be, #IgualesconAmor ".
The qualities that this social leader has are thanks to the various life experiences that Camila has been faced with, as it was in 2012 where she survived a mental illness, which allowed her to know the possibilities of dreaming and aspiring. to dreams where the mind can often be the main enemy. Having lived in London and Mexico where I assimilate in a more real way his notion about the Latin American reality and the various opportunities that exist to fight against the main reason for undertaking and is to reduce the inequality gap in the region. Additionally, he has worked with leaders from all over the country, during the pandemic he was present in Chocó, La Guajira, San Andrés, Soacha, in Cartagena With more than three hundred grants providing food security, it is currently developing projects to work with leaders who are the ones who know their community best.
Throughout this trajectory, the effort has been recognized on various occasions, as winners in 2020 by the Government of the United States in the YLAI program , and Project with Social Impact of the Women of Success Foundation; in 2019 winner of the Women Economic Forum (WEF) , in 2018 winner in Corporación Ventures LATAM , in 2017 winners by the BBVA Momentum and winners by the SEIS of the University of La Sabana, among others, motivation to continue in favor of this great social work. Along the same lines, it has achieved alliances with multiple sectors, such as the Internal Action Foundation, led by Johana Bahamón, who together took the initiative to prisons in the country, delivering internal cribs.
Now I am on the verge of launching the first book, Equals with Love , where it summarizes the entire trajectory of these five years on this great social work on issues from scientific and practical experience, on the main pillars such as conscious pregnancy, safe sleep , breastfeeding, positive parenting, family and inclusion. Managing to add recognized expert doctors, influencers, families and mothers from various territories, who share their traditions and culture with us.
In short, a woman who has created a community and support network based on love and female empowerment, who continues to dream of continuing to work to protect early childhood through accompanying families and caregivers. Always keeping in mind your message that love can break down barriers.
"I want to earn this recognition because it is the opportunity to open my heart to tell the young and the elderly, who have been so affected by the Covid-19 pandemic, that although personal fears seem greater than our strength, As a survivor of a mental illness, I promise you that you can get out of there and no matter how old we are, it is valid to start over. "