SPREADING LOVE IN THE OTHER CARTAGENA
Eight months ago we managed to impact the community of Saboyá , Boyacá, with love, cribs and education , during the celebration of the fourth anniversary of our Fruto Bendito Foundation. On June 11, 2021, the opportunity to return to this beautiful community was presented, through our Cunas con Amor program .
In the midst of the Covid-19 pandemic, this delivery of cribs came from virtuality. The appointment with the families of Boyacá was scheduled for 10:30 am. This was attended by Yuly Marcela Cortés (Social Manager of Saboyá), donors, allies, Savoyard families. Of course, the Fruto Bendito Foundation was also there with a gift of love: an interview with the Spanish pediatrician Carlos González. Undoubtedly, this was an event full of hope, lessons and surprises.
Yuly, our link with Saboyá
All of this was thanks to Yuly and our alliance with the municipality. Yuly affirms that the raison d'être of her work as a Social Manager is "to go to different instances and entities to be able to support the vulnerable population of my municipality. So I am constantly looking for and making contacts through social networks with people who can join this noble, but significant work ". And it was in this way that he learned about the social work of our foundation and the Cunas con Amor program, "which has brought great benefits to Savoyard mothers and early childhood," adds Yuly.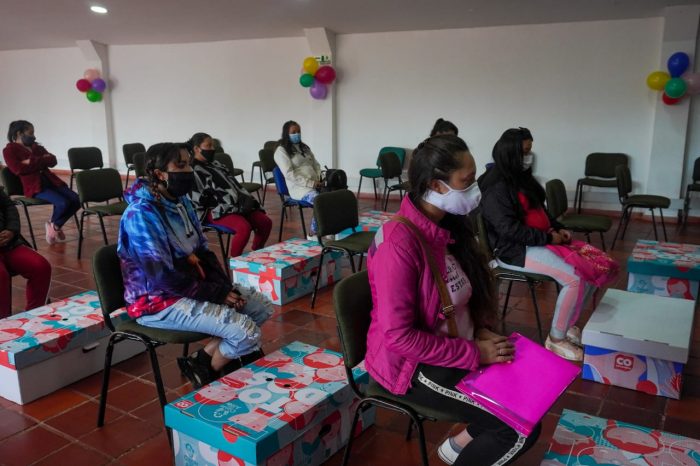 To carry out this delivery, Yuly's work was crucial. She searched and contacted our foundation through Instagram: "I requested support so that these mothers could be beneficiaries of the programs developed by this entity. Very kindly and quickly they gave me a positive response to my request ". In addition, she and her work team created a database of low-income Savoyard pregnant mothers, who would be the beneficiaries of our cribs in Saboyá.
Faced with this alliance made reality, Yuly has "great admiration for each of the people who are linked, showing that it is possible to help and generate well-being to those who really need it . We have also learned the importance of generating solidarity from our homes. Teach our son to be a kind person, respectful of differences and dedicated to good causes ". On the other hand, as a foundation we are filled with joy and satisfaction to be able to support the communities. Which see in our work a great opportunity and tool for social transformation.
Cribs in Saboyá, full of surprises
On September 30, 2020, our foundation celebrated its anniversary by helping the Savoyard population. For that opportunity, Yuly mentions that "40 cribs equipped with baby items were received. In addition to toys, clothes and a series of elements that have reached children and mothers from different corners of the town ". Now, for this new installment in 2021, 20 cradles were brought to Saboyá.
These cribs were sponsored by donors and ecological families, who buy a crib and donate another to those in need. As in 2020, these cribs were also equipped with first changes, clothes and toys. In addition to this, a baby chair was delivered, donated by the presenter Carolina Cruz, who supports our social work.
But that was not all. These cribs in Saboyá brought great surprises. A Starter Kit for families was included, as a launch by the foundation. This, thanks to an alliance with My Baby Manual. Another great launch was the talk with the Spanish Pediatrician Carlos González. He taught a number of safe sleep and parenting guidelines for the sake of enjoying time with babies more. Finally, a raffle was held for an accompaniment by Dula Ana María Ramírez Mesa. Student of Child Psychology and Specialized in OPF (Maternal Fetal Optimization, Pregnancy and Childbirth). Certified as a Dula, Lactation Consultant, Complementary Feeding Consultant, Yoga Teacher and Ayurveda Therapist.
For Yuly, "working with the foundation and being beneficiaries of its projects is a great experience. It teaches us to give without thinking about receiving and, above all, that with a little you can do a lot . You only need the intention to work for others and fight to create better opportunities for everyone ".
Working for a transformation
As a foundation, we firmly believe that our support programs for vulnerable families will bring about change in society. Positive parenting will form human beings more sensitive to their environment and more aware of the other. In addition, the knowledge provided on topics such as Conscious Pregnancy, Breastfeeding and Safe Sleep will reduce the rates of Sudden Infant Death and Maternal Death. Thus, through the alliance with Saboyá we seek to monitor these indices.
Yuly affirms that they are very grateful "to Camila and her family, to the professionals who are part of the foundation and to all the people who make their contributions to reach so many places in the country . " Also, if there was already a first help, then a second, how could there not be a third? Given this, Yuly mentions that "all kinds of social work that can be carried out in the municipality are welcome. With pleasure and without a doubt we would be part of new projects. Because we know that with his hand we can satisfy many needs of our population ".